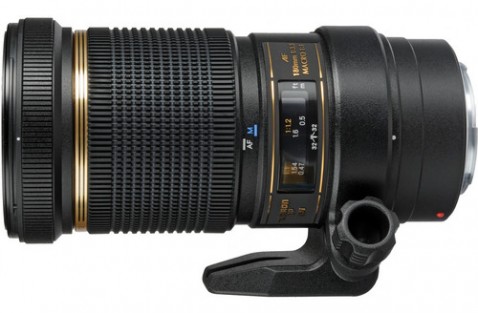 Tamron SP 180mm f/3.5 Di LD (IF) 1:1 Macro Lens (Amazon
 | Adorama | B&H)
This Di lens is designed for the larger image circle of a full frame DSLR. Having said that the lens is also suitable for smaller APS-C crop sensor based DSLRs as well as film cameras. The Tamron SP 180mm f/3.5 Di LD (IF) 1:1 Macro has a minimum focusing distance of 18.5" and offers a 1:1 magnification ratio. The extended focusing distance ensures that users can shoot from a safe distance and yet capture 1:1 magnification and amazing perspectives to go with it. Additionally internal focusing elements means the lens remain discreet when focusing. With a non-rotating barrel it also satisfies an important requirement for photographers preferring to use a circular polarizer. It also helps that the lens has Filter Effect Control (FEC) which increases the convenience of using a polarizing filter.
A constant aperture of f/3.5 allows the lens to shoot in most lighting conditions. However if you're looking for something even faster then the Tamron SP 90mm F/2.8 Di MACRO 1:1 VC USD lens is something that you can look at. This 180mm prime lens has an angle of view of 14˚. Apart from its obvious use as a great macro lens it is also suitable as a medium range tele lens. With its fast aperture it is suitable for shooting sports, action and wildlife.
The lens has a total of 14 elements including two LD (low-dispersion) glass elements arranged in 11 groups. The lens diaphragm is made up of 7 rounded blades overall weight of the lens is 920 grams and it uses a filter of diameter 72mm.
Tamron SP 180mm f/3.5 Di LD (IF) 1:1 Macro Lens Specifications
Model
B01
Construction (Groups/Elements)
11/14
Angle of View
14°
Diaphragm Blade No.
7
Min Focus Distance
0.47m (18.5″)
Magnification Ratio
1:1
Filter Diameter
ø72
Wt
920g (32.5oz.)
D x L
ø84.8mmx165.7mm
(3.3in x 6.5in)
Standard Accessory
Lens hood & Case
Available Mount
Canon
Nikon
Sony
Available at 
Amazon
 | 
Adorama
 | 
B&H
Order Your Tamron SP 180mm f/3.5 Di LD Macro Lens from